Paint Protection Details
Virtually invisible, high performance urethane film protects vulnerable, painted areas of the vehicle from scratches, chips and stains
Self-healing technology delivers unrivaled scratch resistance
Maintains exceptional clarity with good resistance to yellowing
Supplies tough, durable and maintenance free performance
Perfect for bumper covers, door pull cavities, side mirrors, hoods, door edges, trunk ledges and rocker panels
Low orange peel provides optimal clarity, maintaining the original surface appearance
Installed by 3M trained technicians – Film does not alter the color or design elements of vehicle
10 year warranty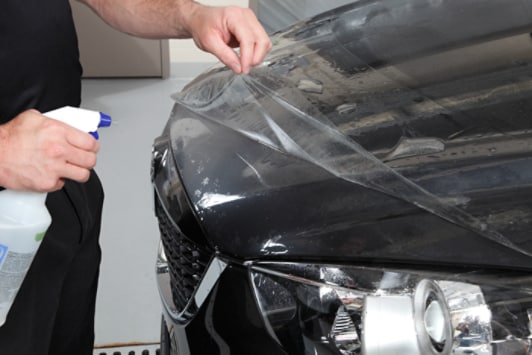 Significantly reduces paint chips and bug damage
The Highest Level of Paint Protection 
Our Scotchgard™ Paint Protection Film Pro Series offers the highest level of scratch and stain resistance, clarity and durability of any of our 3M™ Paint Protection Films (PPF). Its specially formulated clearcoat provides optimal clarity to preserve the color brilliance and design lines of a vehicle's painted surfaces. Guaranteed for seven years of high-quality performance, it is flexible, conformable and long lasting even under harsh conditions.
Scotchgard™ Paint Protection Film Pro Series supplies dual layers of advanced protection for exposed automotive surfaces. This 8 mil (203micron) thermoplastic polyurethane film is reinforced with a topcoat of hard-wearing, clear urethane as well as a proprietary clearcoat that provides additional protection from UV damage. It comes with a clear acrylic pressure sensitive adhesive (PSA) on one side that adheres easily and securely to automotive paint systems, shielding the surface beneath from damage.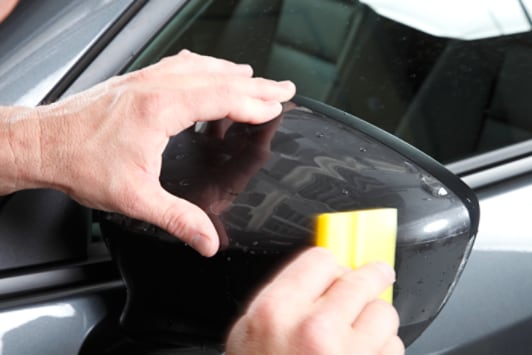 Durable, high-grade, colorless
Out of Sight Defense 
Paint protection film, also known as "clear bra", is one of the best ways to preserve the showroom quality finish of a vehicle. It keeps vehicles looking newer longer, without changing the design features or color, by creating a barrier and protecting vulnerable areas such as front bumpers, hoods, side mirrors, door handle cavities, door edges, rocker panels, and rear fender panels. It holds up under high heat, UV exposure and salt spray. Preserving the finish of a vehicle with paint protection film (PPF) keeps it looking newer longer, and can enhance the resale value of the vehicle in the future. Scotchgard™ Paint Protection Film Pro Series contains a high strength backing that features excellent abrasion, puncture, and tear resistance, along with high heat and moisture resistance.
When applied, the transparent film is almost indistinguishable from the original finish. The tough, durable, virtually invisible urethane film offers excellent conformability around contours and is an excellent choice for maintaining the new car look that owners desire. Scotchgard™ Pro Series films are maintenance free and do not require any special maintenance to keep your film looking great — owners may wash and wax as usual.
See more about Scotchgard™ Paint Protection FIlm Pro Series (PDF, 1.7 Mb)
Ten Year Warranty for Paint Protection Film
When installed by a Certified 3M Installer, Scotchgard™ Paint Protection Film Pro Series is backed by a 10 year warranty. The applied film is warrantied against defects including yellowing, bubbling and cracking. For further details, please consult the warranty card listed below.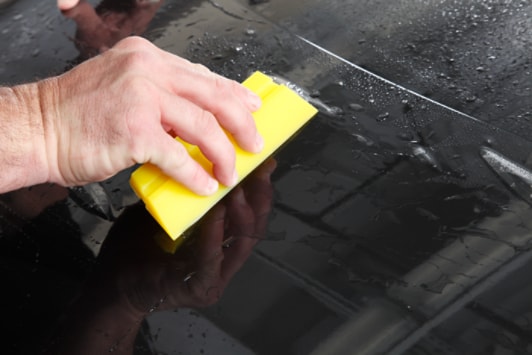 Professional applicators can help you select those vehicle components that will benefit the most
Leave it to the Professionals
Certified 3M Installers leverage a library of 1000's of computer designed patterns to cut parts that are a custom fit for your vehicle - ensuring a precise, high quality installation. These are skilled installers in applying the film around compound curves, challenging grillwork, wheel openings, bumpers and all other areas on vehicles. The film is cut using a computer-designed kit that is model-specific, thereby delivering a precise fit that makes the film almost undetectable. For the trained technician, 3M PPF kits are easy to cut and install.
Recommended Applications
Door edges
Door handle cavities
Full or partial hoods
Fenders
Front bumpers
Rocker panels
Side mirrors
Trunk ledges
3M Science Delivers Reliable Surface Protection
From headlight restoration to acoustic materials to paint protection films, 3M automotive engineers have invented cutting-edge technologies that enable automotive technicians to deliver the highest levels of customer satisfaction. We at 3M have leveraged our technical capability and scientific knowledge to create a film that offers world class protection for vehicle finishes — the Scotchgard™ Paint Protection Film Pro Series. This film is an outstanding example of how 3M technologies help drive the automotive industry, providing both ease of use and superior results.